The smoothie is very popular among yoga students and fans of healthy eating, but since summer 2015, a small fruit has been making its way to the throne of the power breakfast: the acai berry. A tasty superfood that keeps you healthy, fills you up, is an Instagram star and also helps you lose weight! What is it about the effect of the delicious Acai Bowl? In which restaurants can you get the colourful snack in Germany? And how do you make the healthy Acai-Bowls yourself at home?
The Instagram community seems to have said goodbye to smoothie and muesli (Granola was yesterday!), because today a photo-talented hipster from Acai Bowls is eating! No wonder, because they not only look like little food artworks, but are also healthy. The Acai Bowl consists classically of a berry puree and various toppings. It is vegan, has hardly any carbohydrates (low carb!) and is full of fibre, vitamins and superfoods.
Acai: the healthy breakfast
The basis of every acai bowls near me is the Acai Berry. This is the fruit of the cabbage palm, which grows mainly in Latin America. The berry is said to have fat burning properties, but this is not scientifically proven. The high content of antioxidants, which catch free radicals in our body, keep us young, strengthen the immune system and have a positive effect on our cholesterol level, has been proven.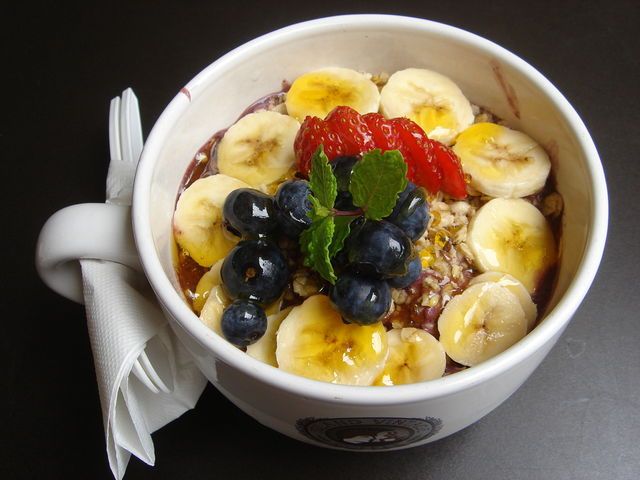 Acai: Calories
What about the nutritional values? An Acai Bowl can become a calorie bomb due to the different toppings. A normal Acai Bowl has between 350 and 460 calories and can therefore be seen as a full meal. The calories should not be in the foreground of this healthy power breakfast, after all, it fills you up for a long time, is full of fiber and is super healthy! With this simple recipe you can make your own Acai Bowl.
Recipe Acai to make yourself (2 servings)
2 tbsp Acai powder
250 g frozen berries// fresh berries
1 banana
400 g soy yoghurt // almond milk
The acai berry is so sensitive that it can only be purchased from Brazil in powder, puree or juice form (especially in organic shops). By the way, it is pronounced "Asssa-i", not "Akkkai" or "Azzzai". There are various recipes for the puree, in our bowl belong one to two tablespoons of acai powder. You mix it with fresh raspberries, strawberries and blueberries – but you can also use a frozen berry mix. Choose a banana and then a vegan protein component. Almond milk conjures a slightly more liquid acai base, soy yoghurt a more creamy mass.For topping we choose chia seeds, coconut rasp, goji berries, banana and berries. For the sweet tooth it can be mango and delicious chocolate granola.
Acai Bowl recipe with peanut or almond butter (1 serving)
1 banana (frozen)
150 g berries (frozen)
2 teaspoons acai powder
1/2 apple
2 teaspoons honey
2 teaspoons almond or peanut butter
100 ml coconut water
Acai Bowl recipe with pineapple and yoghurt (1 serving)
2 small bananas
1 handful of frozen berries
1 handful pineapple
1 teaspoon acai powder
1 tsp Chia seeds
250 g yoghurt
Almond milk for the desired consistency
Acai: pronunciation
The correct spelling in Portuguese is "Açaí". The "ç" is not pronounced like a "k" (Akai) or "z" (Azai), but like an "ss", so Acai is pronounced as "Assa-i", with emphasis on the "i". The "ai", which we like to call dipthong in German, is separated: "Assa-i".
Acai: Buying powder and berries
Unfortunately Acai cannot be bought as fresh berries, as they spoil too quickly (within 24 hours!) and would not survive transport across the Atlantic. Acai can be bought as capsules and tablets, but for the preparation of the bowls you need the powder or the Acai-Mark. You can get this in organic markets and health food stores, it costs between 15 and 20 euros.
Acai Bowl: the toppings
The question of the right toppings must be answered by each individual. The berries themselves have a rather earthy and not very intrusive taste, so you can easily vary the healthy breakfast with the toppings of your choice. The hearty side is made with homemade granola (favourite nuts and seeds simply baked with some melted coconut oil and maple syrup), coconut chips, hemp seeds, pollen, nuts, seeds and cocoa nibs. For the extra kick of freshness, snipe over your favourite fruit and add a little sweetness with raisins or Medjool dates. If you fancy an extra portion of food porn, garnish your Acai Bowl with a spoonful of nut sauce at the end. Yummy!